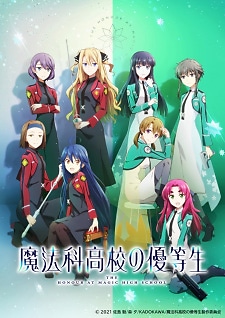 Download Anime Mahouka Koukou no Yuutousei Subtitle Indonesia – Menceritakan peristiwa antara Enrollment Arc hingga meneruskan Nine Schools Competition Arc dari sudut pandang Shiba Miyuki.
Satu abad telah berlalu, sejak sihir – sihir yang nyata dan sejati, bahan-bahan yang legenda telah kembali ke dunia. Sekarang di musim semi, musim permulaan yang baru, dan siswa kelas baru akan memulai studi mereka di Sekolah Menengah Pertama Akademi Sihir Nasional, nama panggilan: Magic High School.
Sebuah manga spin-off dari seri novel ringan yang sangat populer, The Irregular at Magic High School. The Honor Student at Magic High School mengikuti alur peristiwa dari seri aslinya seperti yang terlihat melalui mata Shiba Miyuki, saudara perempuan Tatsuya. Kehidupan seorang siswa teladan datang dengan banyak harapan … dan adanya perasaan tersembunyi yang tak terduga ?! (Sumber: ANN)
Cerita sampingan dari cerita utama yang berfokus pada sudut pandang adik perempuan Shiba Tatsuya dan pengalaman kejadian yang terjadi di cerita utama. (Sumber: today .line .me)
Merupakan kisah dari Mahouka Koukou No Rettousei yang diambil dari sudut pandang Miyuki, sang adik dari Tatsuya Shiba yang agung dan begitu tersohor lagi legendaris itu.
Mahouka Koukou no Rettousei sendiri atau dalam bahasa Inggrisnya dikenal sebagai The Irregular at Magic High School adalah sebuah seri novel ringan karangan Tsutomu Satou, di mana dalam novel ini dikisahkan mengenai keagungan seorang anak manusia bernama Tatsuya Shiba. Alkisah sepasang kakak beradik Tatsuya & Miyuki Shiba dalam sebuah sekolah sihir yang telah menerapkan teknologi mutakhir dalam penggunaan sihir. Namun di sekolah tersebut Tatsuya & Miyuki masuk dalam kelas yang berbeda di mana Miyuki sang adik masuk di kelas unggulan namun sang kakak Tatsuya justru masuk di kelas biasa. Namun siapa sangka bahwa sosok Tatsuya Shiba yang hanya masuk di kelas biasa tersebut belakangan menjadi sesosok yang legendaris dan begitu agung? (Sumber: kaorinusantara .or .id)